Free shipping - ACER adapter PA-1700-02 for Acer Aspire 19V 3.42A 5732z 5742 5332 2930 9304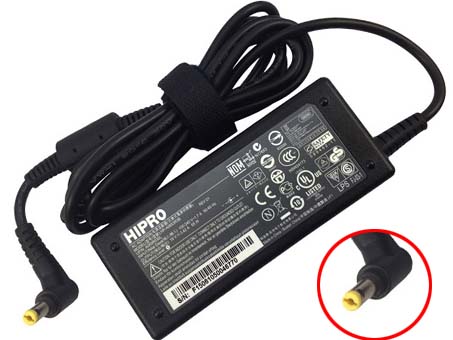 Specifications:

Brand :
ACER.
AC Input :
100-240V 50-60Hz.
DC Output :
19V 3.42A, 65W.
Type :
GSB004.
Pcode :
ACE17340.
Condition :
Brand New.
Shipping :
.
Price :
GBP £ 25.47.
Description :
Cheap Acer in UK
This is a ACER PA-1700-02 AC Power Adapter (Laptop Charger) for the following ACER laptops / notebooks.
Laptop Adapters can enhance your productivity by powering your notebook while plugged in, as well as charging your battery so that you can take your notebook with you when you unplug.
ACER AC Adapters help you save on equipment, power consumption costs.
Compatible Part Numbers:
PA-1700-02,SADP-65KB (REV.D), HP-OK066B13,HP-A0653R3B,UP/N:A065R030L, API2AD02, PA-1650-02, AP.A1401.001, AP .0650A .001, AP .0650A .005, AP.06501.005, AP.T1902.001, LC.ADT01.007, LC.T2801.006
Compatible Laptop Models:
Aspire 1400 series (AS1400LC, AS1400XC, AS1400XV)
Aspire 1410 series (AS1414WLCi)
Aspire 1500 Series (AS1501LCi, AS1501LMi)
Aspire 1551 Series (AS1551-4650, AS1551-4755, AS1551-5448)
Aspire 1640 Series (AS1641LCi, AS1641WLMi, AS1642WLMi, AS1644ZWLMi, AS1640Z (AS1642XWLMi).)
Aspire 1650 Series (AS1652WLMi, AS1654WLMi, AS1652ZWLMi, AS1654ZWLMi)
Aspire 1680 Series (AS1681LCi, AS1681WLCi, AS1681WLMi, AS1684WLMi, AS1685WLMi)
Aspire 1690 Series (AS1690WLCi, AS1690LCi, AS1690WLMi, AS1691WLCi, AS1691WLMi, AS1692WLMi, AS1694WLMi)
Aspire 1830 TimelineX Series: AS1830T-3505, AS1830T-3721, AS1830T-3927
Aspire 2000 Series (AS2001LCi, AS2002LCi, AS2002LMi, AS2003LMi)
Aspire 2020 Series
Aspire 2420 Series
Aspire 2920 Series
Aspire 3030 Series
Aspire 3100 Series
Aspire 3200 Series
Aspire 3500 Series (AS3502LCi, AS3502NLCi, AS3502WLCi, AS3503LCi, AS3503WLCi)
Aspire 3510 Series
Aspire 3610 Series (AS3612LCi, AS3613LCi, AS3613WLCi, AS3613WLMi)
Aspire 3620 Series (AS3623NWXMi, AS3623WLCi, AS3623WLMi, AS3623WXCi, AS3623WXMi, AS3624WXCi, AS3624WXMi)
Aspire 3630 Series (AS3634LMi, AS3634WLMi)
Aspire 3650 Series
Aspire 3660 Series
Aspire 3670 Series
Aspire 3680 Series (AS3680-2108, AS3680-2233, AS3680-2301, AS3680-2513, AS3680-2626, AS3680-2974)
Aspire 3810 Timeline Series: AS3810TZ-4806, AS3810T-6376, AS3810T-8737
Aspire 3820 TimelineX Series: AS3820T-3051, AS3820T-5246
Aspire 4220 Series (4220G)
Aspire 4310/4315/4320 Series (AS4310, AS4315-2004, AS4315-2490, AS4315-2843, AS4315-2963, AS4320-2451)
Aspire 4520 Series (AS4520-5141, AS4520-5424, AS4520-5458, AS4520-5582, AS4520-5803, AS4520-5950)
Aspire 4551 Series (AS4551-2615, AS4551-4315)
Aspire 4730 Series (AS4730-4042, AS4730-4374, AS4730-4437, AS4730-4457, AS4730-4516, AS4730-4730z, AS4730-4758,,

AS4730-4857, AS4730-4901, AS4730-4972, AS4730-6405,AS4730-4947)
Aspire 4710 Series (AS4710-2013), 4710Z
Aspire 4720 Series (AS4720-2013, AS4720-4199, AS4720-4538, AS4720-4721, AS4720-4825, AS4720-6748, 4720Z)

Aspire 4730Z Series
Aspire 4810 Timeline Series (AS4810TZ-4508, AS4810T-8480)
Aspire 4810 Timeline Special Edition (AS4810TZ-4183)
Aspire 4810 TimelineX Series (AS4820TG-3195, AS4820T-3697, AS4820T-5570, AS4820TG-5637)
Aspire 4920 series (AS4930-6862)
Aspire 5000 Series (AS5001LCi, AS5001LM, AS5001WLMi, AS5002LM, AS5002LMi, AS5002WLMi, AS5003WLMi, AS5004WLMi)
Aspire 5030 Series
Aspire 5050 Series (AS5050-3242, AS5050-3371, AS5050-3465, AS5050-3564, AS5050-5172, AS5050-5374,

AS5050-5410, AS5050-5554, AS5050-5555, AS5050-5574, AS5050-5827, AS5050-5951)
Aspire 5100 Series (AS5100-3016, AS5100-3748, AS5100-3577, AS5100-3825, AS5100-5022, AS5100-5033,

AS5100-3949, AS5101AWLMi, AS5102WLMi (Model BL51), AS5103WLMi)
Aspire 5310 Series
Aspire 5315 Series (AS5315-2001, AS5315-2077, AS5315-2122, AS5315-2142, AS5315-2153, AS5315-2191, AS5315-2203, AS5315-2290,

AS5315-2326, AS5315-2698, AS5315-2713, AS5315-2768, AS5315-2808, AS5315-2826, AS5315-2940, AS5315-2942)
Aspire 5334 series (AS5334-2153, AS5334-2581, AS5334-2598, AS5334-2737)
Aspire 5517 series (AS5517-1208, AS5517-1216, AS5517-1643, AS5517-5086, AS5517-5661, AS5517-5671, AS5517-5997)
Aspire 5532 series (AS5532-5509, AS5532-5535)
Aspire 5534 series (AS5534-1121)
Aspire 5538 series (AS5538-1096)
Aspire 5542 series (AS5542-1462)
Aspire 5551 series (AS5551-2013, AS5551-2036, AS5551-2380, AS5551-2805, AS5551-4200, AS5551-4937)
Aspire 5500 series (AS5502ZWXMi, 5500Z)
Aspire 5510 Series
Aspire 5520 series (AS5520-5142, AS5520-5147, AS5520-5156, AS5520-5313, AS5520-5377, AS5520-5537, AS5520-5551,

AS5520-5806, AS5520-5891, AS5520-5901, AS5520-5908, AS5520-5912
Aspire 5570 series (AS5570-2502, AS5570-2067, AS5570-2758, AS5570-2797, AS5570-2977, AS5570-4174, AS5570-4285,

AS5570-4421, AS5570-4581, AS5570-4765)
Aspire 5580 series (AS5580-6177, AS5580-6707, AS5580-6856)
Aspire 5680 series (AS5680-6001, AS5680-6123, AS5680-6516, AS5680-6517, AS5680-6560, AS5683WLMi)
Aspire 5710 Series (5710, 5710Z, 5715Z)
Aspire 5720 Series (AS5720-4230, AS5720-4649, AS5720-4662, AS5720-4984, 5720G, 5720Z)
Aspire 5732 Series (AS5732Z-4280, AS5732Z-4598, AS5732Z-4867)
Aspire 5734 Series (AS5734Z-4386, AS5734Z-4512, AS5734Z-4725, AS5734Z-4836)
Aspire 5735 Series (AS5735-4624, AS5735-4774, AS5735-4950, AS5735-6041, AS5735-6211,

AS5735-6285, AS5735-6694, AS5735-6957)
Aspire 5738 Series (AS5738Z-4111, AS5738Z-4333, AS5738Z-4574, AS5738DG-6165)
Aspire 5740 Series (AS5740-5144, AS5740-5255, S5740G-5309, AS5740-5513, AS5740-5749, AS5740-5780, AS5740-5847,

AS5740-6025, AS5740-6378, AS5740G-6395, AS5740-6491, AS5740G-6979)
Aspire 5741 Series (AS5741-3541, AS5741G-5062, AS5741-5119, AS5741Z-5433, AS5741Z-5539, AS5741G-5608,

AS5741-5698, AS5741-5763, AS5741-6823)
Aspire 5745 Series (AS5745-3428, AS5745-3633, AS5745-5387, AS5745-5425, AS5745-5950, AS5745-6528)
Aspire 5810 Timeline series (AS5810TZ-4274, AS5810TZ-4433, AS5810TZ-4657, AS5810TZ-4761, AS5810TZ-4784, AS5810T-8929)
Aspire 5820 TimelineX series (AS5820T-5951, AS5820T-6178)
Aspire 5920 series (AS5920-6313, AS5920-6329, AS5920-6444, AS5920-6470, AS5920-6574, AS5920-6582, AS5920-6661,

AS5920-6706, AS5920-6750, AS5920-6954, AS5920-6959, 5920Z)
Aspire 6920 series (AS6920-6141, AS6920-6422, AS6920-6441, AS6920-6508, AS6920-6621, AS6920-6731,

AS6920-6853,AS6920-6886, AS6920-6973, 6920G)
Aspire 6930 series (AS6930-6067, AS6930-6073, AS6930-6235, AS6930-6455, AS6930-6586, AS6930-6771, AS6930-6809,

AS6930-6847, AS6930-6942, 6930G-6723, 6930G)
Aspire 7100 Series (AS7103EWSMi, AS7104WSMi)
Aspire 7540 Series (AS7540-1284, AS7540-5750)
Aspire 7551 Series (AS7551-2531, , AS7551-2560, AS7551-2818, AS7551-2961, AS7551-4909)
Aspire 7736 Series (AS7736Z-4088, AS7736-6948)
Aspire 7740 Series (AS7740-5029, AS7740G-6140, AS7740G-6364, AS7740G-6930)
Aspire 7741 and 7741Z Series (AS7741-5137, AS7741-5209, AS7741Z-5731, AS7741-5932)
Aspire 7745 Series (AS7745-5602, AS7745-5632)
Aspire 9400
Aspire E1-421
Aspire E1-422
Aspire E1-431
Aspire E1-471
Aspire E1-521
Aspire E1-522
Aspire E1-531
Aspire E1-571
Aspire R3-571
Aspire M3-581T
Aspire M5-481PT
Aspire M5-481T
Aspire M5-481TG
Aspire M5-581T
Aspire M5-581TG
Aspire M5-582PG
Aspire S3-391
Aspire S3-951
Aspire V3-471
Aspire V3-551
Aspire V3-571
Aspire V3-731
Aspire V3-771
Aspire V5-431
Aspire V5-431P
Aspire V5-471
Aspire V5-471P
Aspire V5-531
Aspire V5-531P
Aspire V5-551
Aspire V5-571
Aspire V5-571P
Aspire V5-572
Aspire V5-572P
Aspire V7-481P
Aspire V5-482PG
Aspire V7-581
Aspire V7-582P

Travelmate 220 series (TM222X, TM223X, TM225X, TM225XC, TM225XV-PRO)
Travelmate 230 series (TM230X, TM230XC, TM230XV, TM230XV-PRO, TM233LC, TM233X, TM233XV, TM233XVi, TM234LC, TM234LCi)
Travelmate 250 Series (TM250, TM250P, TM252ELC, TM252ELCi)
Travelmate 270 series (TM270XV, TM272LC, TM272XV, TM272XVi, TM273XV)
Travelmate 290 Series (TM290LCi, TM290LMi, TM290X, TM290XCi, TM290Xi, TM290XMi, TM290XVi)
Travelmate 420 Series (TM422LC, TM422XC, TM422XV, TM426LC, TM426XC, TM426XV, TM427LC)
Travelmate 500 Series (TM505DX, TM506T, TM506DX, TM507T, TM507DX, TM508DX, TM508T)
Travelmate 510 Series (TM512DX, TM512T, TM512T-64, TM513T, TM514T, TM514TXV, TM515TE, TM517TE)
Travelmate 630 Series (TM630XV, TM630XCi, TM632XCi, TM633LCi, TM634LC, TM634XCi, TM636LCi)
Travelmate 650 Series (TM653LCi, TM654LCi)
Travelmate 660 Series (TM661LCi, TM662LMi)
Travelmate 730 Series (TM730TXV, TM732TXV, TM732TLV, TM734TL, TM734TXV, TM735TLV, TM736TL,

TM736TLV, TM737TLV, TM738TLV, TM739TLV, TM739GTLV)
Travelmate 2000 Series (TM2001LC, TM2001LCi, TM2001X, TM2001XC, TM2002LCi, TM2002LMi, TM2003LC, TM2003LMi)
Travelmate 2300 Series (TM2301LC, TM2301LCi, TM2301WLCi, TM2301XC, TM2303LC, TM2303LCi, TM2303WLCi, TM2304LCi, TM2304WLCi)
Travelmate 2310 Series (TM2312LCi, TM2312WLCi, TM2312WLMi, TM2313LCi, TM2313WLCi)
Travelmate 2410 Series (TM2412LCi, TM2413LCi, TM2413NLCi, TM2413WLMi)
Travelmate 2450 Series
Travelmate 2460 Series
Travelmate 2470 Series
Travelmate 2480 Series
TravelMate 3000, 3010, 3020, 3030, 3040, 3200, 3210, 3220, 3230, 3250, 3260
Travelmate 3270 Series (TM3270-6569)
Travelmate 4730 Series (TM4730-6405, TM4730-6447)
Travelmate 4740 Series (TM4740-5261)

TravelMate 5520 series (TM5520-5030, TM5520-5313, TM5520-5678, TM5520-5929, 5520G)
Travelmate 5530 Series (TM5530-5155, TM5530-5369)
Travelmate 5730 Series (TM5730-6884, TM5730-6891)
Travelmate 5740 Series (TM5740-5896, TM5740-6291, TM5740-6529)
Travelmate 5600, 5710, 5720 Series
Travelmate 6000 Series (TM6003LMi, TM6004LCi)
Travelmate 6231 Series
Travelmate 6291 Series (TM6291-6019, TM6291-6335, TM6291-6753, TM6291-6792)
Travelmate 6292 Series (TM6292-6059, TM6292-6700, TM6292-6856)
Travelmate 6492, 6592 Series
Travelmate 6293 Series (TM6293-6170)
Travelmate 6493 Series (TM6493-6768, TM6493-6899)
Travelmate 6593 Series (TM6593-6585, TM6593-6639)
Travelmate 7320, 7720 Series
Travelmate 8000, 8100, 8100A Series
Travelmate 8371 Series (TM8371-6457)
Travelmate 8471 Series (TM8471-6306, TM8471-8818)
Travelmate 8472 Series (TM8472-6012)
Travelmate 8571 Series (TM8571-6465, TM8571-8537)
Travelmate 8572 Series (TM8572-6592, TM8572-6779)

Extensa 5620 series (5620Z, EX5620-4020, EX5620-4025, EX5620-4428, EX5620-6119, EX5620-6266,

EX5620-6419, EX5620-6635, EX5620-6830, EX5620-6846)
Extensa 5635 series (EX5635-6897)
Other products
Laptop Battery