Free shipping - DELL adapter CCSB042 65W for Dell Latitude D505 Latitude D500 DC Car Charger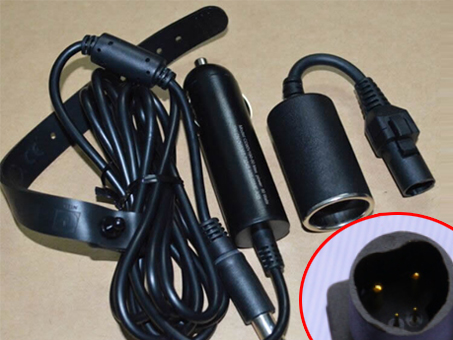 Specifications:

Brand :
DELL.
AC Input :
12V (for only 12V car use).
DC Output :
19.5V(Compatible 65W).
Type :
Cart Charger .
Pcode :
DEL17352_Cart.
Condition :
Brand New.
Shipping :
.
Price :
GBP £ 41.25.
Description :
Cheap Dell in UK
This is a DELL CCSB042 65W AC Power Adapter (Laptop Charger) for the following DELL laptops / notebooks.
Laptop Adapters can enhance your productivity by powering your notebook while plugged in, as well as charging your battery so that you can take your notebook with you when you unplug.
DELL AC Adapters help you save on equipment, power consumption costs.
Compatible Part Numbers:
only For DELL
CCSB042
Compatible Laptop Models:
Inspiron 11z(1110)
Inspiron 13(1318)
Inspiron 13R(N3010)
Inspiron 13z(5323)
Inspiron 14(1464)
Inspiron 14(3421)
Inspiron 1420
Inspiron 14R(5420)
Inspiron 14R(5421)
Inspiron 14R(7420)
Inspiron 14R(N4010)
Inspiron 14R(N4110)
Inspiron 14z(5423)
Inspiron 14z(N411z)
Inspiron 15 (3520)
Inspiron 15 (3521)
Inspiron 1520
Inspiron 1521
Inspiron 1525
Inspiron 1526
Inspiron 1570
Inspiron 15R (5520)
Inspiron 15R (5521)
Inspiron 15R (5720)
Inspiron 15 (1545)
Inspiron 15 (1564)
Inspiron 15R (N5010)
Inspiron 15R (N5110)
Inspiron 17 (1750)
Inspiron 17 (1764)
Inspiron 17 (3721)
Inspiron 1720
Inspiron 1721
Inspiron 17R (5720)
Inspiron 17R (5721)
Inspiron 17R (7720)
Inspiron 17R (N7010)
Inspiron 17R (N7110)
Latitude D410
Latitude D420
Latitude D430
Latitude D500
Latitude D505
Latitude D510
Latitude D520
Latitude D530
Latitude D531
Latitude D600
Latitude D610
Latitude D620
Latitude D630
Latitude D800
Latitude D810
Latitude D820
Latitude D830
Latitude E4200
Latitude E4300
Latitude E4310
Latitude E5400
Latitude E5410
Latitude E5420
Latitude E5430
Latitude E5510
Latitude E5520
Latitude E5530
Latitude E6230
Latitude E6320
Latitude E6330
Latitude E6400
Latitude E6400 ATG
Latitude E6410
Latitude E6410 ATG
Latitude E6420
Latitude E6420 ATG
Latitude E6430
Latitude E6430 ATG
Latitude E6500
Latitude E6510
Latitude E6520
Latitude E6530
Latitude E7420
Latitude E7440
Latitude 13
Latitude 2100
Latitude 2110
Latitude 2120
Latitude 3330
Latitude 6430U
Latitude XT
Latitude XT2
Latitude XT3
Precision M20
Precision M2300
Precision M2400
Precision M3800
Precision M4300
Precision M4400
Precision M4500
Precision M4600
Precision M4700
Precision M4800
Precision M6600
Precision M6300
Precision M6700
Precision M6800
Precision M90
Studio 1457
Studio 1458
Studio 14z (1440)
Studio 15 (1535)
Studio 15 (1537)
Studio 1536
Studio 1555
Studio 1557
Studio 1558
Studio 1735
Studio 1737
Studio 1745
Studio 1747
Studio 1749
Studio XPS 13 (M1340)
Studio XPS 16 (1640)
Studio XPS 16 (1645)
Studio XPS 16 (1647)
Vostro 1000
Vostro 1014
Vostro 1015
Vostro 1088
Vostro 1220
Vostro 1310
Vostro 1320
Vostro 1400
Vostro 1440
Vostro 1500
Vostro 1510
Vostro 1520
Vostro 1540
Vostro 1700
Vostro 1710
Vostro 1720
Vostro 2510
Vostro 3300
Vostro 3350
Vostro 3400
Vostro 3450
Vostro 3500
Vostro 3555
Vostro A860
Vostro V13
Vostro V130
Vostro V131
XPS 12 MLK
XPS 14z (L412z)
XPS 15 (L501X)
XPS 15 (L502X)
XPS 15 (L521X)
XPS 17 (L701X)
XPS M1210
XPS M1330
XPS M1530
XPS M170
XPS M1710
Other products
Laptop Battery