Free shipping - SAMSUNG adapter AA-PA3N40W AD-4012NHF for Samsung XE500T1C XE700T1C-A01 Series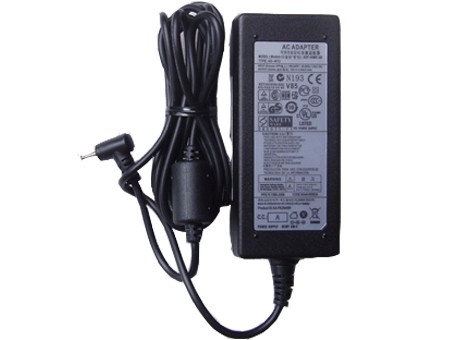 Specifications:

Brand :
SAMSUNG.
AC Input :
100-240V 50-60Hz.
DC Output :
12V 3.33A,40W.
Type :
GSBAAH.
Pcode :
SAM17774.
Condition :
Brand New.
Shipping :
.
Price :
GBP £ 26.49.
Description :
Cheap samsung in UK
This is a SAMSUNG AA-PA3N40W AD-4012NHF AC Power Adapter (Laptop Charger) for the following SAMSUNG laptops / notebooks.
Laptop Adapters can enhance your productivity by powering your notebook while plugged in, as well as charging your battery so that you can take your notebook with you when you unplug.
SAMSUNG AC Adapters help you save on equipment, power consumption costs.
Compatible Part Numbers:
A12-040N1A,AD-4012,AD-4012NHF,A12040N1A,AA-PA3N40W,AA-PA3N40W/US,AA-PA2N40W,BA44-00286A,BA44-00262A
Compatible Laptop Models:
INPUT: 100-240V 50-60Hz (for worldwide use)

OUTPUT: 12V 3.33A, 40W

Connecter size: 2.5mm×0.7 mm (ref to the picture).

Outlet: 3-prong

SKU:GSBAAH

Cord Cable: US/ UK/ EU/ AU plug

One Power cord is included with this adapter for FREE(fit your country )
Samsung Chromebook 11.6-Inch Wi-Fi

Samsung Chromebook 11.6-Inch 3G

Samsung Chromebook XE303C12-A01US

Samsung Chromebook XE303C12-H01US

Samsung Chromebook XE303C12-H01UK

Samsung Chromebook XE303C12-A01UK

Samsung Chromebook XE303C12-A01



Samsung ATIV Smart PC 500T

Samsung ATIV Smart PC 500T1C

Samsung XE500T1C

Samsung XE500T1C-A01US

Samsung XE500T1C-A01AU

Samsung XE500T1C-A01FR

Samsung XE500T1C-A01NL

Samsung XE500T1C-A02US

Samsung XE500T1C-A03US

Samsung XE500T1C-A04US

Samsung XE500T1C-A01UK

Samsung XE500T1C-A02UK

Samsung XE500T1C-A03UK

Samsung XE500T1C-A01CN

Samsung XE500T1C-H01UK

Samsung XE500T1C-H02UK

Samsung XE500T1C-H03UK

Samsung XE500T1C-HA2US

Samsung XE500T1C-H01DE

Samsung XE500T1C-H02DE

Samsung XE500T1C-H02ID

Samsung XE500T1C-A01DE

Samsung XE500T1C-A03DE



Samsung ATIV Smart PC Pro 700T

Samsung ATIV Smart PC Pro 700T1C

Samsung XE700T1C-A01CN

Samsung XE700T1C-A01

Samsung XE700T1C-A01US

Samsung XE700T1C-A01AU

Samsung XE700T1C-A02

Samsung XE700T1C-A02AU

Samsung XE700T1C-A02DE

Samsung XE700T1C-A02US

Samsung XE700T1C-A03US

Samsung XE700T1C-A04US

Samsung XE700T1C-A01UK

Samsung XE700T1C-H01UK

Samsung XE700T1C-A02UK

Samsung XE700T1C-A03UK

Samsung XE700T1C-A04UK

Samsung XE700T1C-A05UK

Other products
Laptop Battery